Insight Collaboration allows you and other members of your team to work together on your risk management program: sharing documents, identifying and assigning work tasks, and exchanging information. These features are designed to facilitate teamwork. Changes that occur are immediately reflected in the information displayed to you and your account team. The goal is to create a central shared record of risk management information.
For example, using these tools you can upload a simple MS Excel Spreadsheet and turn it into a dynamic insurance schedule to be shared with other members of your account team. Team members can now jointly collaborate on maintaining the schedule, even assigning tasks or scheduling events around the management of the information it contains. Now, by taking a commonly used piece of software and extending it`s functionality via some cool Web-based technology, we've created an interactive tool for intelligently managing risk.



Gallagher Insight uses a powerful portal framework to deliver secure, personalized information and services to clients. Gallagher Insight delivers these unique experiences using something called a Community. A Community is a set of one or more dynamic Web pages that can be permissioned to any given set of people. These Communities are the core building blocks of presenting any risk management program in an organized fashion. Any Community can then contain an unlimited number of Web services or tools that deliver different functionalities based on the business need. For example, a Community might contain a dynamic listing of the Gallagher Account Team, Inforce Policy Schedule, Document Library and a Calendar.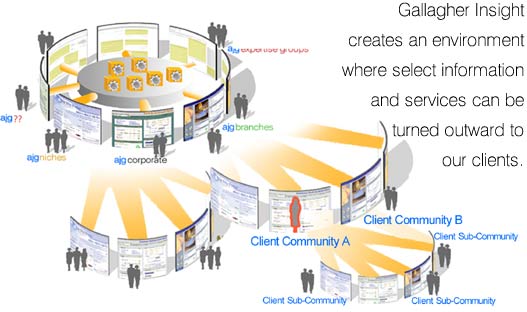 We think this strategy will help our technology keep pace with the ever-changing business needs of our clients and partners. The important thing to note is the scalability and ease of use this facilitates. Now we can create dynamic web pages and deliver them to any number of users without writing a single line of code.
The Collaborative Tools include:
Announcements: displays important information (announcements) for project users that you, as Project Leader, post; allows you to post, edit, and delete announcements.

Task Lists: displays task and ToDo lists for projects; allows users with appropriate permissions to create and manage the set of tasks contained in a task list.

Tasks: displays individual tasks in task and ToDo lists; shows the work to be done, the status of the task, and its due date. As work progresses on a task, the user assigned to it can inform other users of progress by changing the task status. If no one is assigned to a task, it is Unassigned; project users can claim unassigned tasks, that is, assign tasks to themselves.

Calendar: displays items that have dates & events, tasks, and milestones; allows project users to add events.

Documents: displays documents associated with a project; allows project users to view the documents. Users with appropriate permissions can edit documents, check them out, revise them and then check them back in. Insight Collaboration tracks all versions of documents, retains copies of all versions, and also indicates the current working version of a document. The figure below is an example of the folder tree and document repository that can be associated with each project.

Folder Tree: displays a list of hierarchical folders that can be modified to suit each project.